A Wonka-Riffic trip: The Tunnel, The Boat, The Words, The Music – It's Willy Wonka All Grown Up! (As if Willy Wonka wasn't a masterpiece ahead of its time!) Travel through a Wonka-Riffic tunnel of words, sounds, and images twisting fantasy and reality together. The show combines the poetry of Charlotte Street's 2019 Generative Performing Artist Sheri Purpose Hall and the music of Willy Wonka and the Chocolate Factory.  This suite will be delivered in a variety of styles with musical accompaniment by a live band highlighting its multiple highs and lows which work to re-envision our current state as a nation and city through poetry and music. Our world can be as smooth as chocolate and sweet as candy; all we have to do is believe, and everything in our imagination will become reality.
Location:
Saturday, September 7, 7 p.m.
Union Station Streetcar Stop
Bio:
Sheri Purpose Hall is a spoken word artist, author, radio personality, educator, and minister who uses her work to provide perspective and engage conversational empathy.  She has written 4 books, is the founder of Arsyn Press and East of Red ArtHouse, director of KC Poet Tree, Program Director for Poetry for Personal Power, and provides consulting and assistance for many other non-profit, community-based, and arts organizations. She is also a 2019 Charlotte Street Generative Performing Artist Awardee and Studios Resident Artist in her 2nd year, 2019 and  2017 Arts KC Inspiration Grant recipient, and an ArtsKC Inspiration Breakfast featured artist.  She has also represented Kansas City Nationally as an individual competitor at the Women of the World Poetry slam (2017 & 18) and as a team competitor at the National Poetry Slam 4 years in a row.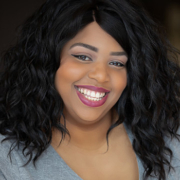 website | spokenpurpose.com
instagram | @purposespoken