When Two Worlds Meet is an installation-work that brings awareness to the boundaries we create because of differences. Here, Contemporary dance meets Hip Hop in a striking juxtaposition. The piece begins by highlighting the differences between these two dance mediums. Eventually, however, the two artists must share their insight with one another through their diverse dance backgrounds in order for art to thrive. Revealing that boundaries based on differences is all make-believe.
Location:
June 5
Kansas City Public Library Central Library, Helzberg Auditorium
14 West 10th St.
Bio:
Tristian Griffin, a native of Kansas City, Missouri. He graduated from Texas Christian University in 2014, and received his BFA in Ballet with an English minor. Following graduation, he joined and danced for Garth Fagan Dance Company for 3 years. More recently, he was given the opportunity to perform with the Metropolitan Opera House, the Lyric Opera of Kansas City, Wylliams/Henry Contemporary Dance Company, and Owen/Cox Dance Group. His latest creation, "Palimpsest", is commissioned by Charlotte Street Foundation to produce his own performance series. He was also selected as tenure for the Charlotte Street Foundation's 2018-2019 Artist-in-Residency program.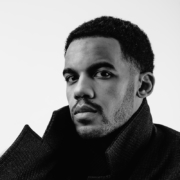 website | tristiangriffin.wixsite.com