HERONS AND HUMMINGBIRDS CROSS THE ROAD
Make believe you are in a world like Lewis Carroll's Alice in Wonderland with Herons and Hummingbirds Cross the Road. In such a world, the birds might not be of feathers and fluff, but something else altogether. In the 1951 Disney animated version, vultures were umbrellas and ducks were bicycle horns. So let's imagine that in that world, lace doilies became bored with the status quo and decided that a more avian lifestyle quite suited them, thank you very much. They took up forms of winged creatures so they might enjoy other pastimes, such as sipping nectar from the most delicate of flowers or meandering about remote swamps, all while retaining their lacy nature. We're talking about doilies, after all.
Now, imagine a flock of such creatures in the heart of the city, flitting about, blocking traffic, and crossing the road. Not such a bad sight, is it? All it takes is a little imagination, so let Herons & Hummingbirds Cross The Road help you on your flight of fantasy. Make/Believe and bon voyage.  
Location:
KC Streetcar Kauffman Center Stop, Northbound
16th and Main St.
Bio:
Rachelle Gardner-Roe works with lace — literally, figuratively and sculpturally. This atypical media has become both a metaphor for interconnectedness and a means of recontextualizing "women's work" through blending historical craft and the generational passing down of knowledge with contemporary practice. An award-winning artist, with local and national commissions, grants, and residencies, Gardner-Roe is currently based in Mission, Kansas.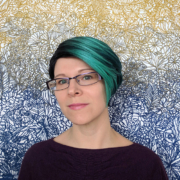 website | gardner-roe.com  
instagram | @rachellegardnerroe
facebook | rachellegardnerroe