Don't Wait, Get Lost
Don't Wait, Get Lost is an interactive installation created to promote play, community interaction, inclusiveness, and the chance to get completely lost in a sensorily whimsical moment. Don't Wait, Get Lost begs to be touched, felt, and played with and offers those sitting at the street car stop the opportunity to escape the mundane act of waiting.
The installation will facilitate multiple tactile surfaces- a colorful painted artificial grass rug and fluffy tactile seat cover will transform the street car stop. Not far beyond the stop, a large futuristic tub will house thousands of colorful polymer orbs that are intoxicating to touch and pleasant to smell. The tub will be decorated with flowing hand-marbled designs in calming pastel colors. The Goo-Witch will spend an entire day overseeing the tub and encouraging viewers to touch, play, and image.
Beyond all of the tactile surfaces in the installation, multiple graphic two-dimensional vinyl "bubbles" will be placed on the street car stop walls. The vinyl prints will depict hands touching and exploring similar materials and surfaces as listed above. The prints will aid in letting viewers know that physical exploration is encouraged. Don't Wait, Get Lost attempts to subvert the isolation and stagnation of waiting for public transportation by encouraging child-like wonder and play.
Location
KC Streetcar Union Station stop, south of the intersection of Pershing and Main Street
Special performances:  June 2,  throughout the day from 12:00-7:00 pm
Bio
Shelby Burchett is a Kansas City-based artist who graduated with an MFA in Textiles from the University of Kansas in 2016. She received her BFA in Fiber from the Kansas City Art Institute. Shelby has primarily focused her studio practice in exploring material magic and creates work through her alter-ego, Goo-Witch, a persona which specifically utilizes her understanding of magic, science, individual spirituality, and experimentation as ritual.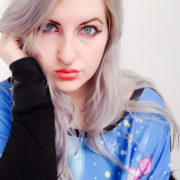 Website: www.goo-witching.com
Instagram: goowitch
Tumblr: http://goo-witch.tumblr.com/