Wait Here
Wait Here is a visual cue to reflect on the stories and people you meet while waiting at any of the streetcar stops. The flowing designs, floating characters, hidden words and faces all add to the feeling that there has to be something else hidden within the designs that you haven't quite seen yet. It is this feeling which causes people to potentially break barriers as they're encouraged to ask other riders what they see differently within the design or what their reaction to the art might be. The overlapping faces and characters within the illustration are a visual reference of all the people I've talked to and shared spaces with while riding the streetcar since it's inauguration. The stories, faces and waiting spots all become one continuous story the more that you ride the streetcar.
Location
KC Streetcar Power & Light, Southbound Stop
14th and Main St.
Bio
JT Daniels is a KC native who received his BA from Park University in 2012. Since 2013, utilizing his role as a youth development coordinator, he's been able to mentor youth on the varying aspects of art, storytelling and community engagement.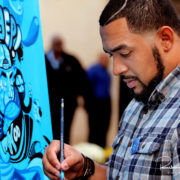 website: www.jtdanielsart.com
instagram: jtdaniels_art
twitter: @jtdaniels_art