The doodle vinyl covering for the Union Station streetcar stop is an immersive doodle experience that welcomes bystanders to view the Kansas City they know and love through a fresh lens. Doodle KC consists of a labyrinth of doodles that form a map-like image of Kansas City, incorporating all of the major architectural landmarks and iconic imagery that defines the past, present, and future of this Midwestern destination. Brown's mission for the project is simply to recreate the way that we perceive Kansas City and to provide an inclusive environment where all are welcome, weird is normal, and anything is possible.
Location:
KC Streetcar, Union Station Stop
14th and Main St.
Bio:
Evan Brown is a painter and illustrator based out of Kansas City. After graduating from the University of Kansas with a degree in Illustration, Brown formed Doodle Dood LLC, a brand that centers around his desire to use creativity to promote positivity, growth, and change in the minds of kids and adults alike. Brown enjoys creating work that makes people smile and aims to take his viewers on a whimsical journey through the unknown, working to visually stimulate non-visual sensations such as thought, sound, and consciousness.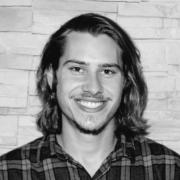 website | doodledood.com
instagram | @doodledoodart